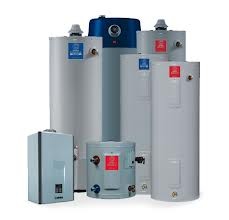 Did you try turning on the hot water, only to realize its not getting hot?
Have you noticed that your water heater is leaking?
Don't worry! Call the experts here at Hamilton Plumbing and Heating Co. and we can help get your hot water back TODAY!
We are experts in all brands and types of water heaters. From State, A.O. Smith, Bradford White, GE, Etc… If you have it, we've seen it, installed it or serviced it. Gas or Electric, Tank Type or Instantaneous. We also can offer you new energy effecient models to save you $$$ on your Gas and Electric Bill!
Is your current water heater 7-8 Years old? Older?!
Did you know that the average life expectancy of a standard water heater is around 7-8 years? If you didn't, it's ok. Most people are unaware of this until it's too late. Replace it before it busts!
Imagine coming home after a long day of work, going in the kitchen to fix your family dinner. You try to turn on the hot water in the sink, only to realize its not getting hot. You think to yourself  "that's weird". You open your basement door only to find your basement is flooded. Your water heater busted! Now not only do you not have hot water, but you need to deal with the mess. Nobody wants to deal with the mess or hassle of a water heater busting and flooding out their basement.
Call us today and we can come give you a FREE ESTIMATE on replacing your existing water heater. We can offer new energy efficient models to save you money on your gas and electric bill! We can also replace your existing tank type heater with an instantaneous water heater, so there is no tank to bust and you never have to worry about running out of hot water when youre the last one to get a shower.
Our professionals show up, placing drop clothes down to protect your floors, cleaning up any mess and removing and disposing of the old heater so you have no worries after the job is completed.
We take pride in being as minimally evasive to your home as possible, cleaning up any mess that we make and ensuring that you are satisfied with our work before we leave!