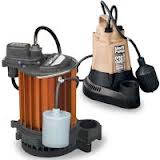 Has your sump pump stopped working?
We can help! Here at Hamilton Plumbing and Heating Co we can replace your existing pump with a brand new submergable pump. We offer different brands and options, specializing in Liberty pumps.
Are you unsure if you're sump pump is working correctly?
Call us and have us come out and inspect your current sump pump and ensure that it is operating correctly! A little money spent now could save you thousands in potential damage done if you're sump pump is not functioning the way it should.
Scared your basement will flood in the event of a storm and power failure?We offer different types of backup sump pumps.
One being a battery backup which uses a large battery (Marine type car battery) to power a separate pump that will keep your basement dry in the event of a power outage.
We also offer water backup sump pumps. They use water pressure to power the pump. This option will allow you to continue to have a backup sump pump no matter how long the power is out.
Want to find out more? Call us today and we can go over all of your options and answer any questions you may have.
We take pride in being as minimally evasive to your home as possible, cleaning up any mess that we make and ensuring that you are satisfied with our work before we leave!