Did your garbage disposal stop working?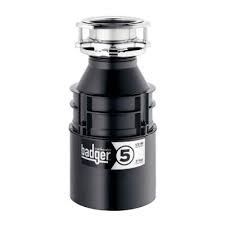 We can come diagnose the problem and give you options to fix it or replace it.
We offer a variety of different garbage disposals but specialize in the Badger 5 InSinkErator. It is a great disposal, has lots of power and is quiet. They also last longer then most standard garbage disposals, so you won't need to replace it as often. Saving you money in the long run.
Is your garbage disposal really loud? Annoying?
Some brands of garbage disposals are louder then others right out of the box. Sometimes putting something to hard, or dropping a utensil into the drain while the garbage disposal is running can cause it to bend one of the blades inside making it much louder then it should be. We offer the Badger 5 InSinkErator as a replacement. It is quiet, powerful and has a longer life then most standard disposals.
Is your garbage disposal leaking?
We can come diagnose the problem and get it fixed for you. It could be leaking from the seal where it meets the sink drain. The garbage disposal itself could be cracked, in which case we would need to replace it. It could also be leaking from the trap. Let the experts here at Hamilton Plumbing and Heating Co handle it for you.
If you're having any problems with your garbage disposal, dont hesitate to call and setup an appointment with us!
We take pride in being as minimally evasive to your home as possible, cleaning up any mess that we make and ensuring that you are satisfied with our work before we leave!