Do you have really low water pressure? 
Call the experts at Hamilton Plumbing and Heating Co and schedule an appointment to have us come test your water pressure and diagnose the problems as to why your water pressure is low!
There are many reasons why your water pressure could be low, from old galvanized water piping coming into your house, and running through your house feeding all of your fixtures. To updated copper or cpvc water piping that is undersized. We don't cut corners when replacing piping, we make sure all fixtures are supplied with the sufficient size piping required for the best operation.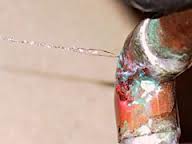 Do you have a leak from one of your water pipes?
Not to worry, we can fix it!
We will come out, locate the leak, isolate it so no unnecessary damage is done to your home and fix it for you.
Are you having problems with one or more fixtures draining slowly? Even after the drains been cleaned out?
Here at Hamilton Plumbing and Heating Co we are experts in drain piping. We will come out and diagnose the problem, giving you options and recommending the best solution to fix the problem. If necessary we can replace the piping for you. We will make sure your drain piping is properly sized, is run correctly, has the proper amount of fall to ensure it drains correctly.
Is one of your drain pipes leaking?
There is one thing you definitely dont want leaking into your house, and that is sewer/drain water! If you've noticed your ceiling is wet underneath where you have a bathroom, you could potentially have a drain pipe leak. Maybe down in your basement you've noticed water on the floor underneath a drain pipe.
Call us today to schedule an appointment!
We take pride in being as minimally evasive to your home as possible, cleaning up any mess that we make and ensuring that you are satisfied with our work before we leave!