Do you think it's time to replace your system?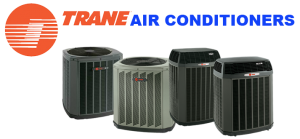 Over time your system starts to "wear out", leaving you with an air conditioning system that either isn't functioning the way it should or one that doesn't work at all.
Do not worry!
One call to the experts here at Hamilton Plumbing, Heating & Air Conditioning will be all it takes to get you back into a comfortable home. With many different options of equipment, our main brand of Air Conditioning Equipment is Trane.
I'm sure you've heard the saying "it's hard to stop a trane". Well with the Trane equipment matched with our professional and advanced approaches to installation of the equipment, that equals one unstoppable system.
Here at Hamilton Plumbing, Heating & Air Conditioning we are trained professionals at system change-outs. Not only do we replace your equipment but we look at how your system is initially installed and can make recommendations on how to enhance your comfort level along with lower your energy bills.
CALL TODAY TO SCHEDULE YOUR APPOINTMENT!
If you would like one of your Experts to contact you to set up an appointment to go over your options for a system replacement, please fill in and submit the form below and we will contact you as soon as possible!